← Back to Insights
Is It Worth Getting PMP Certified?
If you're a practising project management professional, chances are you've heard of the Project Management Professional (PMP) certification. After all, the accreditation is one of the most widely-recognised and sought-after certifications in the industry.
However, is gaining PMP certification worth the trouble?
In this article, we outline why PMP certification can be one of the best ways to differentiate yourself in a competitive market, earn the respect of project stakeholders and further your career.
What is the PMP Certification?
The Project Management Professional (PMP) certification is a globally recognised accreditation issued by the Project Management Institute and is held by more than 1 million people worldwide. Much like the Certified Practising Accountant (CPA) qualification in the finance industry, the PMP is a respected and trusted indication of expertise within project management.
The PMP accreditation is not specific to a single methodology or standard. The management skills gained through completing the certification can be applied to a range of businesses, and the qualification is accepted across industries.
While many certifications relate to specific methodologies or industries, the PMP certification is general in nature, making it the most popular project management accreditation in the world.
Do You Need PMP Certification?
PMP certification is not a prerequisite for being a practising project manager, however, attaining the qualification has several benefits.
3 Benefits of Being PMP Certified
1. Earn Trust and Respect
As a clear testament to your expertise, PMP certification will help you to earn the trust and respect of project stakeholders. Whether it's from your project team or project sponsors, gaining trust will allow you to lead with authority and efficiency.
2. Stand Out
PMP certification can also help you to stand out in a competitive industry and attract the attention of hiring managers.
3. Earn More Money
According to the 2020 Project Management Salary Survey conducted by the Project Management Institute, professionals with a PMP certification had on average a 22% higher salary than their peers.
Not only is a PMP certification a common denominator among high-performing management professionals, but it's also a valuable bargaining chip in negotiating a higher salary with employers.
How to Get PMP Certified
Obtaining PMP certification is a demanding process, involving an exam that takes considerable preparation. Due to COVID-19, you can now sit the PMP exam online, instead of at a physical testing centre. However, you still must meet the certification requirements before taking the test.
PMP Requirements
Before applying for PMP certification, you must have:
A four-year degree

Three years of experience in leading projects

35 hours of project management training or education, or a CAPM certification.
OR
A high school diploma or associates degree

Five years of experience in leading projects

35 hours of project management training or education, or a CAPM certification.
Our online PMP Exam Preparation Training provides the 35 hours of specific project management training needed to qualify for PMP accreditation.

About the Examination
The PMP exam consists of 200 multiple choice questions, which students have four hours to complete. There are five domains that students will be tested on:
Initiating

Planning

Executing

Monitoring and Closing

Controlling
Each of these domains is weighted slightly differently, with the majority of questions relating to domains two, three and four.
The PMP exam is just one part of the certification process: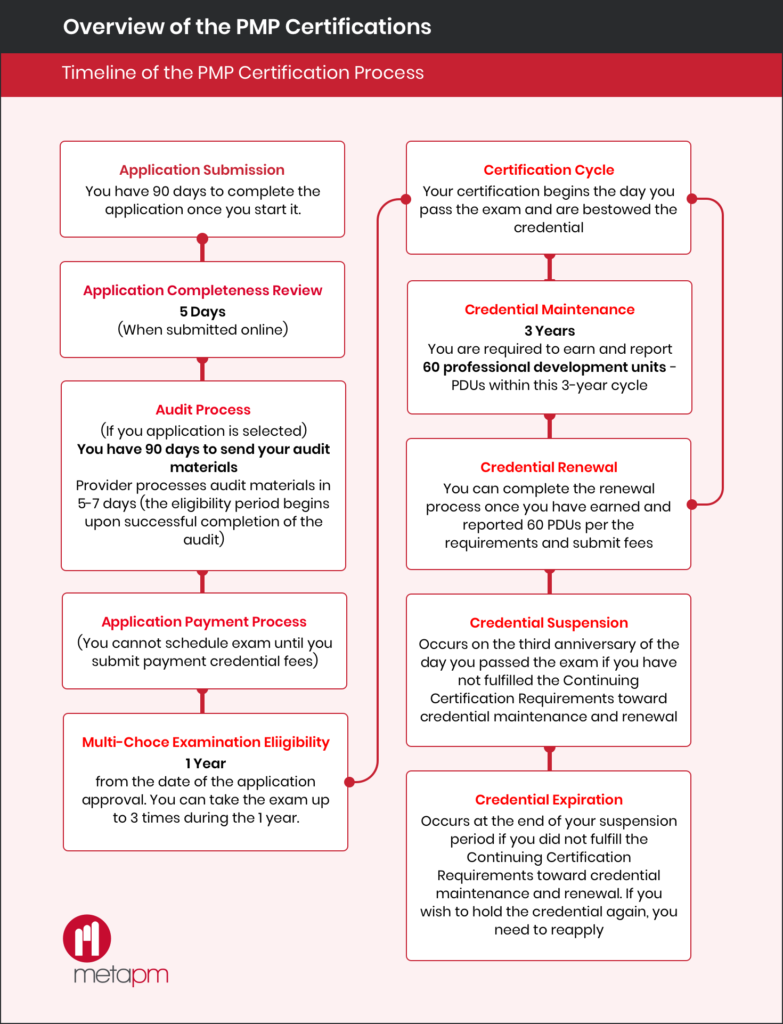 How to Prepare For Your PMP Exam
The PMP examination is widely regarded as a challenging task, which is why the accreditation carries such weight among project professionals. As such, a tailored PMP examination preparation course is the best way to ensure you sit your exam with confidence and attain certification.
MetaPM PMP Exam Preparation
At MetaPM, our online PMP Exam Preparation Training course provides the 35 hours of specific project management training required to qualify for the credential. The course arms students with the knowledge and skills to:
Identify and recall the names and purpose of the processes within each of the 10 areas of project management through the presentation and associated discussions.

Identify the key outputs of selected processes by examining supplied templates.


Identify key tools and techniques of the selected process by using and analysing sample tools provided.
As a PMI Registered Training Provider, MetaPM is a trusted and reliable source of exam preparation. To give yourself the best chance at attaining the sought-after PMP certification, get in touch with us today.